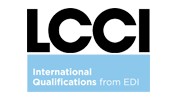 The LCCI International Qualification range is designed to deliver the skills essential for success in today's demanding commercial environment. By matching business skills to employers' requirements and providing reliable evidence of candidates' abilities, they receive international recognition from employers, educational institutes and professional bodies worldwide.
LCCI International Qualifications are trusted and valued by universities, employers and professional bodies the world over. Every year around 250,000 candidates choose LCCI International Qualifications to provide evidence of their ability across a variety of fields, and in order to further their academic and professional careers. Schools, colleges, universities and private training companies in over 120 countries are approved to deliver LCCI International Qualifications.
LCCI International Qualifications have been offered globally for over 100 years (since 1887) and are awarded by EDI, one of the UK's leading awarding bodies. EDI is accredited by the British government and works closely with Ministries of Education around the world.
LCCI International Qualifications receive the following:
Recognition from international curriculum authorities, government ministries and corporations

Exemption for entry to a range of professional bodies including ACCA, CIMA, the Institute of Public Relations, the Association of Accounting technicians and the Institute of Logistics and more..
Endorsement from many well known companies including BMW, Bosch, Oracle, Chrysler, Unilever, Lufthansa, Federal Express, Royal Bank of Scotland and Sony and more.

Recognition by universities in the UK and around the world.